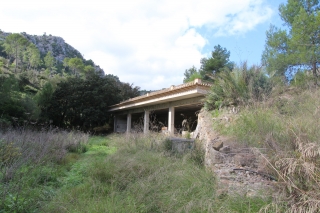 650.000€ - Plot
This spacious plot...
More Details
Ref : 10940


1.200.000€ - Plot
Plot, located in the exclusive golf resort Nova Sonta Ponsa on 2.301 m² , Sold...
More Details
Ref : 8778


Buying plots, building plots in Mallorca with SGI Mallorca
Buying plots in the southwest of Mallorca with SGI Mallorca
Nowadays it's not so easy anymore to find good plots than 20 years ago. If you want to realize your dream of owning your own house or villa in Mallorca, SGI Mallorca offers an excellent selection of the best plots. With more than 20 years of experience and our excellent international contacts we propose well-located plots for sale in Mallorca. SGI Mallorca has positioned itself primarily in the southwest of the sunny island of Mallorca. The southwest is one of the most beautiful regions of Mallorca, that's why there's a high interest in plots and properties.
The southwest of Mallorca is extending from Palma, the lively capital of Mallorca until Andratx with its beautiful fisher harbour. Along the coastline and in the hinterland of the region you can find typical Majorcan life. Quiet bays surrounded by rocks combined with vibrant places. Long sandy beaches and classy marinas, gourmet restaurants and excellent shopping facilities, a varied nightlife in the hottest clubs, six golf courses – the southwest of Mallorca is typical Majorcan and very varied. Plots on Mallorca are very good investment opportunities. The island would like to change its image as "Party Island" and the long-term objective is to attract more vacationers who are looking for an exclusive holiday, that's why plots in Mallorca will benefit from an increase in value.
20 years experience and very good international contacts
selected plots in prime location in Mallorca for sale
very good investment opportunities in the private and commercial sector
Our building plots in Mallorca
We are happy to give you a brief overview of our plots for sale. Of course, our offers are constantly updated to availability, so we recommend a personal consultation. SGI Mallorca can offer you, among other, plots with partial sea views in Santa Ponsa, plot in a beautiful villa complex near Paguera or a plot with fantastic sea views in Genova. Some plots are suitable for private buildings, some can be purchased for commercial buildings. No matter what dream you want to realize in Mallorca, SGI Mallorca is your strong and competent partner. You can reach us by phone at + 34-971-695-912 or contact us by email to info@sgi-mallorca.com. Call us and let us advise you about plots in Mallorca by our experts. SGI Mallorca also offers houses, villas, apartments, studios and penthouses for sale in Mallorca.
Help with buying plot in Mallorca
Buying plots in Mallorca apply under Spanish law. We will be happy to advice you on the targets that must be met, forms and applications, permits and much more that is related to the construction of a property. For some plots building permit already exists, for others it must be applied. Since we are located on the Spanish island for over 20 years and are very familiar with the construction, we will give you information about the local rules of Mallorca. With SGI Mallorca you have a strong and reliable partner at your side. Interested in commercial real estate? You want to run a shop, a hotel or a restaurant in Mallorca? Contact us.